I had some very good friends in town from New Mexico, and wanted to take them somewhere special for dinner. The Columbia Restaurant is probably Tampa's oldest and most famous restaurant, so I'd made dinner reservations for the four of us to dine in the Flamenco Dancing room to see the show.
We've eaten there many times, and in our days as wedding photographers, probably photographed a few dozen wedding receptions in that place. In fact, many years ago – in 1991 – we'd photographed the wedding for one of the Columbia's Flamenco Dancers, "Maria." Well, Maria still dances there. In fact, she was dancing the night we took our New Mexico friends to dinner. She's an incredible dancer, always has been – well… DUH!
After the show, I sent the waiter backstage to tell her that her wedding photographers were here and wanted to say hello. She came out carrying a photograph, a matted 11x14 print that was taken at her wedding in 1991! As luck would have it, for some unknown reason, she'd brought it to work that very day to show the other dancers, and here we were, sitting in the audience that night!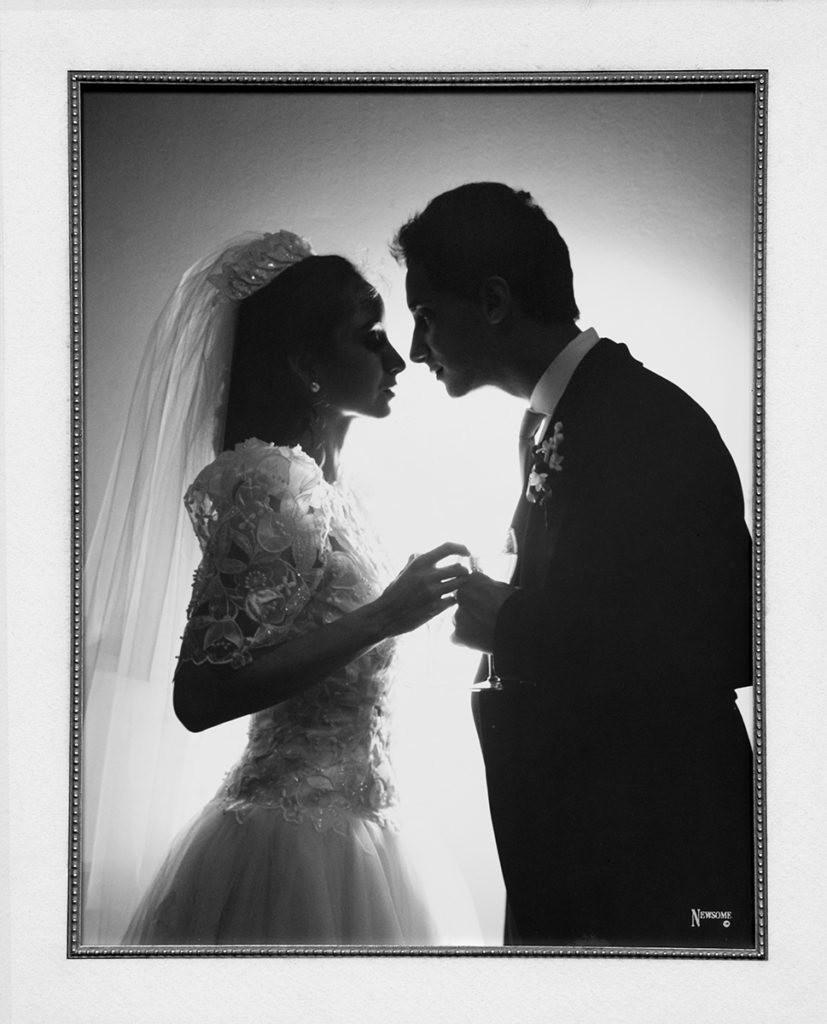 Sadly, she was no longer married to the groom in that photo. She'd kept the photo, she said, because she wanted to keep the frame it was in. She'd put it in closet and forgot about it. When she stumbled across it recently, she thought it would be fun to show her fellow dancers – after all, this was 26 years ago, not long after she'd started dancing at the Columbia!
She took the frame and gave me the print because she really didn't want to keep it any longer. Now, we no longer photograph weddings, but if we did, we would still be very proud to hang this image as a display print.
This was shot using the "second light" (what has been renamed in the digital era as "OCF" or "Off Camera Flash"). The assistant put the light behind the groom and aimed it at the wall, while the camera flash was turned off to purposely create a silhouette of the couple. It was "must-have" shot that every B&G wanted. Between 1986 & 2007, my wife and I combined to photograph over 800 weddings, sometimes as many as three in one day. I miss shooting weddings, I always enjoyed working with the brides and grooms, and love the challenge of photographing "managed chaos," but I don't miss the post-production that weddings created once we'd transitioned into digital. You can KEEP that!
At any rate, it is always a pleasure to run into past clients and know that they still value the images I've created through the years… even if they're no longer married and the frame has actually become the more valuable attraction! Hah!